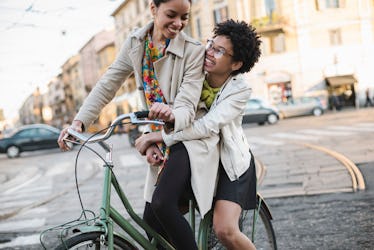 5 Sex Moves To Try On A Bike Ride That Are Wheely, Wheely Hot
Summer dates are so wholesome and fun. You can wander around farmers' markets or haul your bikes to a local trail. When you're both looking cute AF in your summer outfits and the sun is hitting your hair in the best way, things can heat up quickly — if you know what I mean. You might find also yourself on a bike ride with bae this summer and if things start to get intense, there are a surprising amount of sex moves to try on a bike. Sometimes, the mood to get frisky with your bae hits at the most random times, and you should totally follow that calling — as long as you know that you won't be seen by other bikers on the trail.
These bike sex moves are all about making sure you retain your balance and discretion. Sometimes, slipping a hand into the other's pants during a make out can be majorly hot. Don't forget about the fact that bike seats can be super stimulating to a person with a clitoris! Ultimately, you can just follow the vibe of the hookup and see what happens.
If you're really feeling it, no need to pack a picnic blanket — here are five sex moves to try on a bike ride this summer.