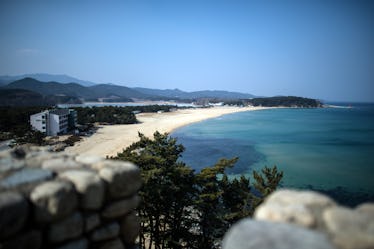 Here Are The Most Romantic Spring Break Destinations To Hit With Bae This Year
Carl Court/Getty Images News/Getty Images
Depending on where you live, the anticipation surrounding spring break can vary from "can't wait to have some time off" to "absolutely need to get out of this arctic hellhole, STAT." If you fall into the latter category, then chances are, you've already been daydreaming about the best place to migrate to for this year's spring break festivities. If you and your bae are planning on vacationing as a couple, then you may want to consider some romantic spring break destinations where you can both party and reconnect on an intimate level.
Every year, hoards of college students flock to popular destinations like Cancun, Las Vegas, and various parts of Florida to eat, drank, and bang. But once you're off the market and in a relationship, the nonstop partying and all-you-can-drink resorts might not be your top priority when it comes to having an enjoyable vacation. If you're in the market for spring break locations that allow for you and your partner to relax, explore, focus on each other, and indulge in some night life, then the good news is, there are plenty of great options that set the stage for a perfect romantic getaway.
1. Miami Beach
While Miami Beach might not seem like the most original spring break destination at face value, the best part about considering Miami is that you have lots of options, depending on what kind of experience you want. While you will certainly see crowds and crazy nightlife along the main strip, there are also lots of secluded and easy-going resorts that are a bit more isolated from the buzz. If you're looking to splurge a bit, plenty of nice resorts that don't cater to the all-inclusive crowd can offer a bit more privacy. Plus, there's tons of culture and live music, so you're def going to want to pack your dancing shoes.
2. Barbados
It's no secret that islands in the Caribbean are typically at the top of the list when it comes to spring break destinations to consider. The usual suspects are The Bahamas, Aruba, and Punta Cana, but Barbados is often forgotten. While a popular place to vacation, it's a bit farther than some of the other islands, and there are less all-inclusive resorts, which may typically result in classier, more honeymoon-type vibes. Plus, it's Rihanna's home country, so you know it's going to be lit.
3. Cabo San Lucas
For the West Coasters who cringe at the thought of having to journey across the country for a handful of days, Mexico is always a very tempting option, and it's easy to see why. The prices are low(ish), the food is delectable, the weather is perfect, and... margaritas. Similar to Miami, there is a ton of nightlife, but unlike Cancun, there are plenty of fun bars and restaurants to party at that don't make you feel like you're reliving Welcome Week of freshman year.
4. New Orleans
I. Love. New Orleans. If you have yet to experience the utter magic of this amazing city, then you are truly missing out. While the party scene can certainly be categorized as "too much" for some people, the city has so many other things to offer in the way of food, culture, music, and history. So it's pretty much impossible not to have fun. Plus, the charming lull of the Mississippi River and sparkle of the city lights will definitely serve up some romantic realness.
5. Maui
There's a reason why the Hawaiian islands are one of the most frequented vacation destinations in the U.S. Pristine beaches and waterfalls galore are just scratching the surface of what Maui has to offer. And while it certainly might not be the cheapest option, Maui would definitely be the way to go for those looking for somewhere romantic that's not too quiet. I mean, surfing, lounging, and authentic Poké — need I say more? Although this would be an easier (and cheaper) option to travel to for West Coasters, it never hurts to set price alerts for a few different locations of interest and see what comes back.
While vacationing as a couple is definitely a different experience from partying as a single person, choosing a destination that will facilitate a romantic experience is a great way to make sure you both have fun.
Check out the entire Gen Why series and other videos on Facebook and the Bustle app across Apple TV, Roku, and Amazon Fire TV.
Check out the "Best of Elite Daily" stream in the Bustle App for more stories just like this!