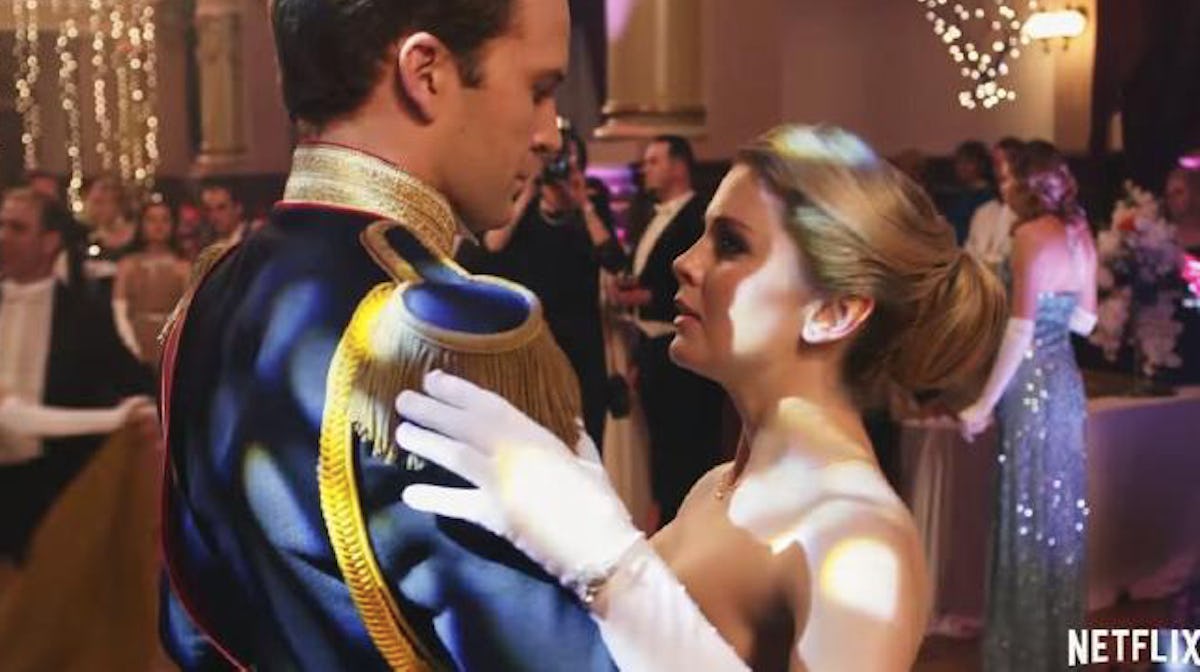 5 Romantic Holiday Movies On Netflix To Watch With Bae This Year
Let me just come clean about something right from the start: I have always been a sucker for the time of year when Lifetime and Hallmark 86 their regular dark & twisty programming — Cocaine Godmother, anyone? — and replace it with feel-good fluff like Hitched for the Holidays, A Very Merry Toy Store and Snowed-Inn Christmas. 'Tis the season, right? And this year, the cinema gods have delivered big time by gifting us with a bunch of romantic holiday movies on Netflix that are heavy on fake fiancés, cheerful small towns, and magical do-overs. Because would it even be the holidays if you didn't get to re-live the same day over at least once?
From a brand new original offering that's currently going viral on Twitter, to a classic pop star special that features our all-time favorite Christmas jam, there is definitely something for everyone. Here, then, are a few faves to binge on with bae during break. Mistletoe sold separately.
1. A Christmas Prince
This is the new Netflix original I was telling you about. And it basically involves a magazine editor from Manhattan named Amber who gets mistaken as a Royal tutor and just rolls with it in order to get the scoop on a playboy prince.
Bet you can't guess what happens next (she said dripping with sarcasm). But who cares because they pretty much had me at "magazine editor," and isn't "happy predictability" standard operating procedure for these movies, anyway?
Amber nicknames the prince "His Royal Hotness," which definitely sounds like something E.L. James would come up with. But I was willing to overlook it because there's a makeover sequence and a Christmas Eve ball, and if I squint real hard, Amber kinda-sorta reminds me of Kristen Bell in Veronica Mars.
Also, according to a weirdly creepy tweet sent out by Netflix, the flick has been watched every single day for 18 straight days by 53 different viewers:
How's that for a ringing endorsement?
2. 12 Dates of Christmas
Oh look — it's Zack from Saved By The Bell! And Amy Smart from Road Trip! And after the two of them go out on a disastrous Christmas Eve date, Smart's character gets to repeat the same day over and over and over again until she finally sleighs it.
Sorry, I just love a good holiday pun! Mark-Paul Gosselaar ain't hard to look at, either.
3. A Holiday Engagement
When newspaper writer Hilary Burns gets dumped right before Thanksgiving, she hires an out-of-work actor to pretend to be her fiancé over the holiday weekend to keep her mother — played by Shelley Long! — off her back. Because of course she does! For the record, I am not a huge Bonnie Somerville fan. But I'm always down for a faux engagement and, turns out, the girl can sing!.
Bonus points for the addition of a snobby sister played to perfection by Haylie Duff.
4. Naughty & Nice
Speaking of Haylie Duff, I love her in this sweet He Said, She Said rip-off. She plays an on-air "love doctor" in a small Colorado town — is there any other kind? — where a cocky radio host from L.A. gets banished after screwing up with an advertiser.
The dude's name is Pepper. For reals. And in typical rom-com fashion, the two go from hating each other to, well, I'd tell you but... what happens under the mistletoe, stays under the mistletoe.
Oh and P.S.: Marsha Brady is in it!
5. Mariah Carey's Merriest Christmas
I'm not gonna lie, this one-hour musical special is mostly here because it features Carey belting out All I Want For Christmas Is You, which is A) my go-to karaoke jam after a glass or three of wine, and B) the legit best holiday love song EVER.
And if you don't believe me, just ask TIME magazine, which recently gave it the coveted No. 1 spot on it's 30 Greatest Christmas Songs list.
Don't you just love validation? Seriously, though — it's hard to imagine how Christmas ever really existed without this anthem, which wasn't even released until 1994. And for that reason alone, I'm closing out my own list with it.
Of course, the production features a bunch of other songs, too. But if all you want for Christmas is to play this baby on repeat while guzzling egg nog and belting out the lyrics, I'm pretty sure Santa (and Mariah) would be cool with that.