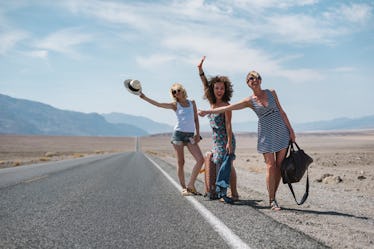 5 Travel Tips That'll Put Your Summer Road Trip In An Easy, Breezy State Of Mind
There is just something special about a classic road trip. Imagine driving down the most scenic roads while listening to music with your best friends. It's easy to forget about the cramped cars and long distances when you're having such a good time with your girls. You don't have to worry about long security lines or flight delays. You can leave whenever you want, and veer off course for a spontaneous adventure if you see a dope spot on the side of the road. Whether you're driving near or far, I've got all of the road trip tips for a dope getaway.
Summer is right around the corner, which means the road is calling. When people think of travel, a flight across the world usually comes to mind — but there are so many benefits to road tripping. You've can be flexible AF, you don't need a lot of time, it's perfect for the girl on a budget, and it's great for bonding. You can load everyone into the car and go wherever the road takes you while singing along to a lit playlist. You can visit a nearby city or drive cross-country. Either way, you're bound to have a good time if you keep these travel tips in mind.