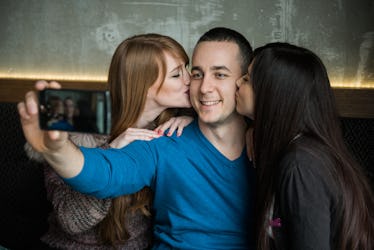 Here's How To Know If Your Crush Is Into Your BFF & What To Do About It
I had a friend with whom I always seemed to find myself in competition over guys. It seemed to me like, in her opinion, the most attractive trait someone could possess was one of her friends being into them. If she sensed you had a crush on someone, she would immediately swoop in — and annoyingly, it often worked. Not knowing how to know if my crush likes my friend, I would stay in the fight, trying to win what was basically a lost cause. I wasted a lot of time and emotional energy this way, when really, had I just seen the signs and moved on, I would have been better off.
Fortunately, you don't have to be like me! You don't have to feel powerless in this situation. If you have a crush on someone but suspect that they're actually feeling your BFF more, there are clear signs that you can recognize so you can stop crushing and start moving on. When it comes to matters of the heart, sometimes your best defense really is a good offense. But first thing's first. How do you know for sure that the object of your affection has feelings for your friend? Here are the behaviors the experts say are a dead giveaway.