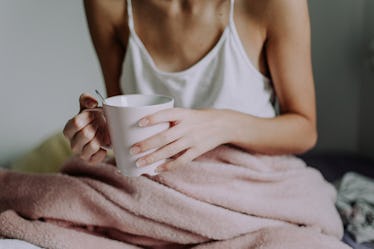 When You Notice These 5 Red Flags In Your Cough, It's Time To See A Doctor
When you have a cough, it can often be easy to overlook and go without medical treatment because, well, it's only a cough. A scratchy throat can follow you throughout the winter months without ever turning into anything more, but in some cases, a cough might be an indicator of something much more serious. As the month of March throws winter storm after winter storm at us, it's important to stay aware of the red flags of a cough that mean it's time to make an appointment and talk to your doctor.
It might feel dramatic, taking time out of your day to talk to a doctor about a simple cough. But the truth is that coughing is an overall indication of the health of several systems in your body, from your lungs, to your nasal passage, to your immune system. Depending on the type of cough you have, it just might be an indication of something more serious.
The best thing you can do when you have a cough is to keep track of when you're coughing, and how the rest of your body is feeling. That way, you can give your doctor as much information as possible to come to an educated guess about what's really going on with your body. If you have any of these five red flags, make sure to see your doctor as soon as possible.