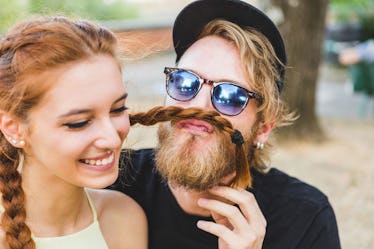 5 Questions To Ask On A First Date When You Want Something Casual, Fun & Easy
No matter how idyllic a committed relationship might sound, the truth is that they definitely require a significant amount of time and dedication to nurture. Depending on where someone's at in their life, they might not have the time or desire to maintain a serious relationship. First off, if you feel this way, don't worry — there's nothing wrong with wanting something casual, but it's always a good idea to be honest about what you're looking for from the start. These questions to ask on a first date when you want something casual can help you figure out whether or not someone would be OK with a more open-ended dating situationship.
When seeking out something casual, it can be helpful to recognize that these types of relationships aren't always easy. "Regardless of how committed two people are to the FWB rules, there are very few times when sex stays just sex for both people involved in these situations," relationship coach Brenda Della Casa previously told Elite Daily. "Whether out of curiosity, loneliness, confusion or sincere desire, it's likely that, eventually, one of the parties will find themselves wanting more."
Once you've confronted the reality of how casual relationships can often play out, here are some questions that will help you suss out whether or not someone would be down for a FWB situation.