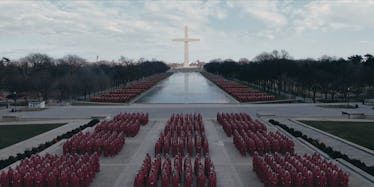 5 Questions 'The Handmaid's Tale' Fans Have After The Season 3 Finale
Hulu
The Handmaid's Tale Season 3 took its time getting to the good stuff. But once the plan to steal back the "Stolen Children of Gilead" was a go, the urgency came back into the show. Moving 50+ children out of a country is no small feat, and the fact June pulled it off is quite honestly a miracle. But when the dust settles, how will the show continue? The questions The Handmaid's Tale fans have are just about endless. Warning: Spoilers for The Handmaid's Tale Season 3 follow.
The real question is, does June survive? She took a gunshot to the back to distract the guards. It wasn't fatal. She was able to not only shoot her assailant but put a bullet in the head of his partner. But then June spent all night in the woods bleeding out.
Her Handmaid partners rescued her and are presumably heading somewhere safe. But this is a massive loose end to be tied up by the Martha brigade. Moreover, how does any of this get explained to Aunt Lydia? There are 52 kids gone, some of the families murdered by Marthas on the way out, and June with a suspicious bullet wound. None of this will go over well.