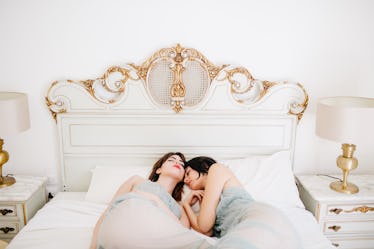 5 Pop Culture Inspired Sex Positions For 2019 To Keep You Satisfied And #Trending
After the long and turbulent 12 months that made up 2018, it's a sigh of relief for 2019 to be here. A sigh of relief perhaps, to prepare us for other kinds of sighs. Whether you're single or got married a few months into dating (like every freakin' celebrity in 2018 seemed to) these five pop culture inspired sex positions for 2019 are sure to make up for the last year, and set us up for all the good things (and good people) to come. And they're inspired by the trends and releases of 2019, so they'll keep you topical and frisky.
Of course with every year, the most important parts of sex often happen off the mattress. Talking about your needs and wants and being on the same page as your partner (or partners) is imperative for making all parties feel good and supported, physically and emotionally. Bringing up a new position or new things to try can be a sensual segue into a conversation about making the most of your sexy time, in 2019 and every other year. Using humor when talking about sex can be a way to deal with the awkwardness and ease into some harder conversations.
These pop culture inspired sex positions for 2019 are sure to spark some conversation between you and your boo, and hopefully spark some sexy too.