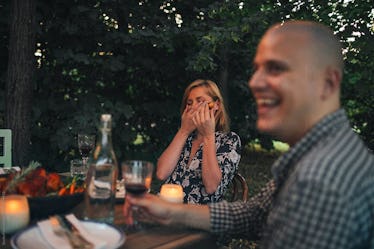 5 People Share Thanksgiving Day Date Horror Stories That Are Sure To Rock The Gravy Boat
Ah, Thanksgiving. At it's best, it's filled with laughter, mind-blowing pie and good old-fashioned family bonding. At its worst, it's awkward AF — particularly when you add a date to the mix. Bringing someone home, whether a new boo or a long-time partner, can come with all kinds of possible pitfalls, leading to epic Thanksgiving Day date horror stories that you're bound to tell for years to come (unless you try to erase them from your memory entirely). Will your sister share some incriminating story from your childhood? Will your aunt accidentally make an insensitive comment about bae's religion? Will Aunt Betsy make that god awful casserole again and try to force your vegan date to eat it?
It's a holiday ripe with potential for memorable moments — that's for sure. Let's start with this startling little fact: around 2,400 fires occur on Thanksgiving due to turkey fryer mishaps, according to the U.S. Fire Administration. Woof, I know. Then, of course, there's the possibility of uncomfortable debates — one 2018 study published in Science revealed that turkey dinners were shortened by about 30 minutes in politically-divided families. Basically, there are many things that can go horribly wrong, which means bringing a date to your family's dinner can be a risky move.
Don't believe me? Here are some true tales of Turkey Day horror.