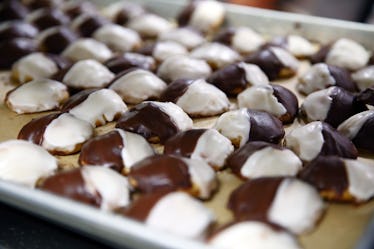 You Can Score Some Sweet Freebies For National Cookie Day At These 5 Places
Astrid Stawiarz/Getty Images Entertainment/Getty Images
There are a lot of reasons to celebrate in December — various cultural and religious holidays, the winter solstice, New Year's Eve. But no reason is sweeter than National Cookie Day, a holiday meant to celebrate our sweet tooth and one of the most wholesome desserts on the planet. If you want to join in on the festivities, these five National Cookie Day deals will guarantee that you score a free cookie on this very special day.
Tuesday, Dec. 4 2018 marks National Cookie Day in the United States and retailers around the country will be offering deals and cookie-related freebies to satisfy all possible cookie cravings. According to National Day Calendar, the origins of this holy day date back to 1976 and arose thanks to a blue monster who happens to love cookies more than anyone else. According to the website:
In 1976, Sesame Street included National Cookie Day on its calendar for the first time on November 26. The Cookie Monster also proclaimed his own National Cookie Day in the 1980 book The Sesame Street Dictionary. Then in 1987, Matt Nader of the Blue Chip Cookie Company out of San Francisco created Cookie Day celebrating it on December 4.
Ready to hear about some of the deals? Check out these five retailers on Dec. 4 to score some serious sweets.