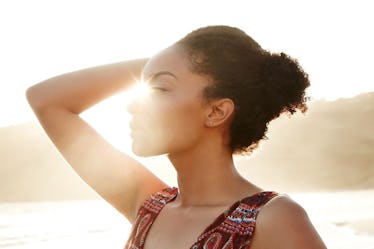 Recite These 5 Mantras After A Breakup To Help Soothe Your Heartbreak
After a breakup, any relief from the heartache is welcome. But some ways to get over the emotions are better and healthier than others. One way that is both healthy and effective is to take control of your self-talk by repeating mantras that will soothe you after a breakup because they reinforce hopeful, positive, and healing ideas. Because honestly, your broken heart could use a little break.
After a relationship ends, I have a tendency to reflexively internalize the whole thing. Clearly, it's my fault, a deficit in myself that lead to things not working out — even when I know in my head it's much more complicated than that, my heart just wants to go there. Which is why mantras are such an important part of healing. It's the way that I mentally push back against the cycle of negative thinking. It's all about taking intentional proactive steps to change the way you are thinking that will, in turn, help soothe your heartache a bit so that you can start to heal. Plus, it's free and you can even do it while under a pile of blankets and empty ice cream containers. (That can't just be me.)
Not sure where to start? Here are a few positive mantras to try after a breakup to help kickstart the closure.