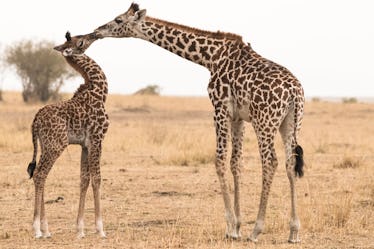 You Can Literally Chill With Giraffes At This Hotel, So Book A Trip ASAP
Are you that girl who nearly cries anytime you see a cute pup? Is your Instagram feed full of adorable animals? I totally feel you. Animals are full of so much love, and they're downright adorable. It feels amazing to come home to snuggle with your doggo after a long day at work. There's also nothing like watching the Big Five in their natural habitat on Discovery Channel. But what about waking up to your favorite animals in the comfort of your own hotel room? There are actually hotels for animal lovers to get up close and personal with some of your favorite animals.
While some of us would prefer more traditional vacations that include museum visits or beachside hangs, others would love the unique opportunity to chill with some of the most incredible animals in the world. Forget going to the zoo or viewing marine life through an aquarium window. You're guaranteed to spot some interesting creatures at these interactive hotels across the world. Imagine waking up to a giant giraffe standing in your bedroom window, or stepping outside of your door to see an elephant pass by. Let's just say you'll never want to stay in a normal hotel again after checking out any of these cool spots.