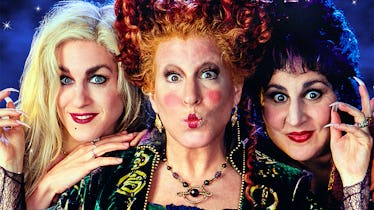 5 'Hocus Pocus' Behind-The-Scenes Facts Even The Biggest Fans Won't Know
Disney
If it's spooky season, then it's time once again for Hocus Pocus. The cult classic Disney film, which debuted back in 1993, wasn't originally thought of as a Halloween film. (It premiered in the summer.) Nor was it a hit; it reportedly lost Disney $16 million. But reruns on the Disney Channel and then on Freeform have transformed the nearly 30-year-old film into a seasonal classic. These Hocus Pocus behind-the-scenes facts may shock those who don't remember the film's original debut.
One of the reasons Hocus Pocus has become such a longstanding hit after is that it rewards repeated viewings. The film is deliberately filled with easter eggs and references, the kind that can quickly go over people's heads in the theaters. For instance, Hollywood staples Gary and Penny Marshall (who are brother and sister) have cameos. Bette Midler makes jokes about her recent TV movie musical Gypsy. And there are visual references to other live-action Disney films scattered throughout the film for eagle-eyed viewers to spot.
Considering how times have changed and movies are viewed, it's not a surprise Disney+ is working on a sequel film in time for the original's 30th anniversary. But will it have nearly as many behind the scenes tales to tell? There's stiff competition in that department.
Here are some secrets from the Hocus Pocus set that'll make your umpteenth viewing even more magical: