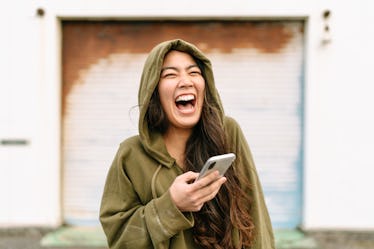 Swipe Right On These 5 Hilarious Zodiac Signs If You Need A Laugh
recep-bg/E+/Getty Images
When you've spent enough time on dating apps, you start to develop a close eye for what you're looking for. Maybe you love a mysterious type, or someone who looks outdoorsy. Or perhaps you always gravitate toward people with a killer sense of humor. When you're feeling down, look out for the five most hilarious zodiac signs to swipe right on. They'll definitely make your day brighter, and they might also end up being your perfect match.
Now that many dating apps are allowing users to list their zodiac sign in their bio — Bumble even lets you filter others based on astrology — it's easier than ever to tell what someone's sign is when you look at their profile. Of course, astrology can't predict everything about someone's personality, and you won't fully know their different sides until you find out their entire birth chart. At best, their sun sign provides a glimpse into how they express themselves.
Overall, certain zodiac signs tend to crack way more jokes than others. If you love to be with someone who makes you smile, you can't go wrong striking up a conversation with one of these entertaining signs. And really, who doesn't need a laugh these days?