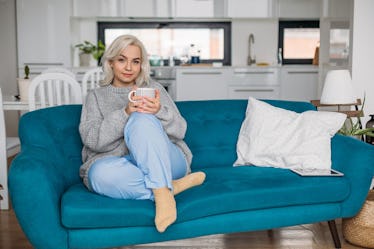 You Probably Had No Idea Your Coffee Habit Is Doing These 5 Things For Your Health
I can't decide what I love most about my morning cup (or, more realistically, cups) of coffee. There are almost too many things to choose from: the warmth of the mug against my hands, the powerful spike of energy to start my day, the creaminess of the swirl of coconut milk I pour on top. Honestly, I love this morning ritual so much that I sometimes forget it can lead to legit health benefits that last way beyond the caffeine buzz. In fact, there are a lot of hidden benefits of coffee, many of which I had no idea about until recently. But they've only made me that much more obsessed with my all-time favorite drink.
According to Dr. Mike Roussell, co-founder of Neuro Coffee, there are lots of healthy compounds in coffee that you may not know about. Of course, many people reach for coffee first thing in the morning to boost their energy levels, or perhaps you like to sip later in the day to help you maintain focus during an afternoon slump. Either way, Roussell tells Elite Daily over email, there's so much more that those tiny little coffee beans have to offer, and it's high time you learned exactly what those hidden benefits are. Here are a few that'll make your morning mug that much sweeter.