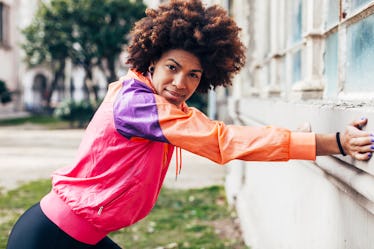 5 Halloween Costumes For Anyone Who Just Wants To Wear Athleisure All Day, Every Day
Having had a swimmer as a college roommate, in addition to a brother who's played basketball for most of his life, I know that athletes pretty much live and breathe in nothing but athleisure clothing. And, TBH, I can't say I even blame them. I pretty much never want to change out of my comfy workout clothes, because yoga pants are bae, and jeans give you uncomfortable, awkward, denim wedgies. That's why these halloween costume ideas for athletes are pretty much what all of your athleisure dreams are made of.
Personally, I think one of the best parts of Halloween is that you can dress up as literally anything or anyone you want, and no one can judge you whatsoever. So, even though these athlete-friendly costumes are pretty basic when it comes to the wild and spooky spectrum of festive disguises available out there, you can make them as elaborate or as simple as you please (while keeping your Lululemon leggings or Nike Pros as the base, of course).
Here are five Halloween costume ideas that are perfect for athletes, and really anyone who's totally obsessed with athleisure and tends to consider leggings a second skin.
1. A Basketball Player
Ball is life, guys. But being comfy AF and not wearing real pants all night long is also life. Who's with me?
Get your workout spandex ready, and grab your favorite team or player's jersey. You can even decorate a pumpkin to resemble a basketball, if you're feelin' extra festive.
2. Richard Simmons And Jane Fonda
Richard Simmons and Jane Fonda have been a Halloween staple duo for years. This costume includes sweatbands, scrunchies, and headbands: all things that athletes and fitness enthusiasts alike pretty much always have on hand.
To replicate the style, you'll need high socks, tank tops, a leotard, and maybe some leg-warmers, too. After all, it'll probably be pretty chilly come All Hallows' Eve.
You're sure to be comfy AF all night long in these costumes, and you can preach about #HealthyLiving while casually taking your fourth orange Jell-O shot.
A healthy lifestyle is all about balance, right?
3. Gymnast
American gymnast Simone Biles literally slays at life, and she provides us with a super laid-back, athleisure-style costume that's low-maintenance AF.
Aside from a pair of running shorts and a patriotic tank top, all you need is a red ribbon for your ponytail and some bold, glittery makeup. Oh, and maybe the ability to do a backflip wouldn't hurt, but maybe we should go ahead and leave that to the pros.
If you don't want to go as a solo gymnast, opt for a group costume and round up the entire U.S. gymnastics team among your girl friends.
4. Personal Trainer
This girl does not look like she's going to let you skip that extra round of burpees, and I honestly feel intimidated just looking at her no-nonsense stare.
But her matching sports bra and leggings are cute AF, and anyone who's obsessed with athleisure would totally want to adopt this style on Oct. 31st (and every other day, let's be real).
For this costume, you can literally go straight from practice or the gym to a Halloween party. Plus, you have an excuse to yell at all of your friends to "drop and give you 20" all night.
5. A Boxer And A Yoga Instructor
Namastay in my Lulus until the day I die.
But seriously, why does Halloween have to be an excuse to wear a blow-up taco costume? (OK, that is awesome, but it also sounds hella uncomfortable.)
Sometimes, you just want to chill in your yoga pants and break out a downward dog during the "Monster Mash," you feel me?
Plus, you can totally hit up your sporty BFF and have them go as your boxing sidekick for an adorable duo costume. You'll embody the perfect combination of strength and flexibility, and the only props you need are a mat and some badass gloves.