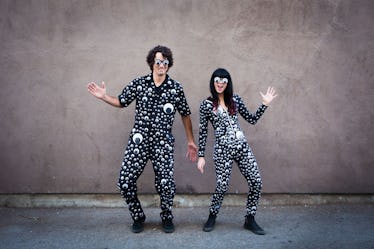 5 Couples Costumes Inspired By Dating Apps That Honor The Way You Met
OK, I'm about to make a big claim here: Halloween is a hella romantic holiday. I really can't think of another occasion when couples costumes are not only welcomed but encouraged. If you're as hot for Halloween as I am, but you're stumped about what costume you should do with your SO, don't fret. Instead, turn to where it all began for some major inspo. Not sure what I'm talking about? Check out these couples costumes inspired by dating apps, which honor the way you met and will likely rouse some laughs amongst friends.
I know what you're thinking, "Zombies? Blood? Vampires? Candy? How does that translate to romance?" Well, you have a point. But is there another holiday so rife with date ideas and chances to dress up in coordinating outfits with your sweetheart? Not exactly. Costumes are one of the best parts of Halloween, IMHO. They're a chance to express your humor and creativity all at once. Granted, I was Napoleon Dynamite for like three years in a row (and I don't really know what that says about me), but it was fun nonetheless.
The following creative costumes will highlight your relationship's origin story in a fun (and funny) way.