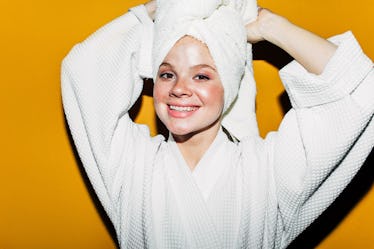 Make These 5 Habits A Part Of Your Daily Routine If You Want To Live A Long, Happy Life
As far as I know, there's no real fountain of youth out there in this wild, wide universe, and there's not exactly a way to live forever, either (at least in the particular body you're in right now — reincarnation could be real, you guys). But there are some habits that can help you live longer, and perhaps more importantly, help you live a happier, more fulfilling life. The good news is, it's actually pretty easy to work these habits into your daily routine.
Now, there aren't really any guaranteed happiness cure-alls that work for every single person, and when it comes to the length and quality of a life, nothing is certain, right? But listen: Making it past your 100th birthday — or actually, past your 105th birthday — might not be all that unrealistic. A new study published in the journal Science suggests that once you reach 105 years old, your chances of survival each day are 50/50. I know that probably sounds really dark at first blush, but hear me out: According to the research, "human death rates increase exponentially up to about age 80," then the rates start to decline, and once you reach 105 years old, those rates hit a plateau. So basically, if you can make it into your 100s, that's obviously already a huge accomplishment. But according to ScienceDaily, this study actually "challenges previous research that claims the human lifespan has a final cut-off point." Isn't that wild?
So listen, if you want to live until you're 105 — or even if you just want to live as happily as you can for however long you are here on this weird little planet — take some tips from the pros on how to take care of your mind, body, and spirit.