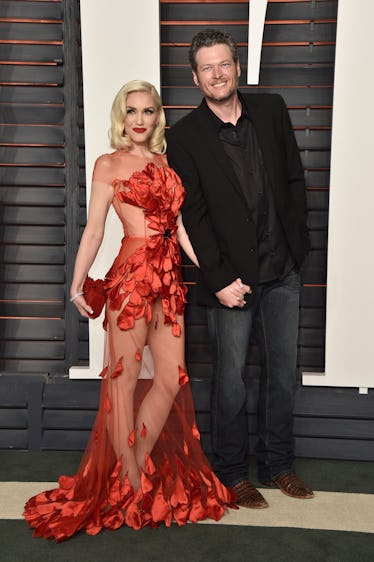 These Quotes From Gwen Stefani About Blake Shelton Will Seriously Have You Swooning
Pascal Le Segretain/Getty Images Entertainment/Getty Images
Gwen Stefani and Blake Shelton are, without question, one of the cutest couples in Hollywood right now. They've been wooing fans ever since they were competing judges on The Voice. Now, two years after they officially announced their coupling, they're still wrapped up in romantic bliss. It's so adorable and they clearly have the utmost love and respect for one another. They gush about their love every chance they get. As a matter of fact, most of Gwen Stefani's quotes about Blake Shelton will definitely have you swooning... and maybe even wishing you had a love like theirs.
When you take a look at Stefani's love for Blake in her own words, it becomes incredibly clear how much they love and care about one another.
In an interview with Haute Living back in May 2016, Stefani spoke at length about how important a role Shelton played in helping her move on from her divorce:
When you're going through a really tough time, there are people that come in your life, like a friend that can help you get through things, and he's definitely one of those people. That's it.
Stefani was previously married to musician Gavin Rossdale with whom she shares three children. They were married for over a decade and the divorce obviously took a toll on Stefani. But Shelton's awesome personality helped her get through it all.
She raved about Shelton to People in 2015:
He's such a fun, funny guy. He just seems like such a good person. I love being around him.
And she was definitely around to help him through his divorce from Miranda Lambert. They showed up for each other and, as we all know, they made it through. Here's how Stefani described that dynamic to Harper's Bazaar:
Blake was like, 'Everybody, before we go out there, I want to let everyone know that by the time this airs, I will be divorced.' It was like being handed this gift of a friend who was going through the exact same thing at the exact same time and then everything flipped. It went from horrible to, like, hopeful and like, 'Wow, God, you just don't know what's gonna happen next.'
Seems like the stars were aligning just for Stefani and Shelton to get together! Odd the way the universe works, isn't it? But it's served these two really well. So well, that even their duet "Go Ahead and Break My Heart" was a smash hit and rather cathartic for Stefani to write:
I wrote the bulk of it in eight weeks. What happened was, the story is, that he had written the song and sent it to me on my phone. I was scared to listen to it. I was like, 'What if I don't like it?' and I listened to it and I'm like, 'Oh my God, I love this.' He said, 'Write the rest of it.' It was a time when I was really insecure about writing.
In an interview with Chelsea Handler, Stefani explained that collaborating with Shelton on that duet was a completely new experience for her.
Anytime I've ever collaborated with anyone, it's always my favorite, but to do something with him, because he's so talented and comes from such a different world, to make music together, it was just so shocking! So amazing to do it live and share it with everybody.
It really seems like these two musicians mesh exceptionally well. There's no doubt that they're great for each other. They're super happy, incredibly in love, and making the rest of the world a little envious of their total bliss! How can you not love them together?