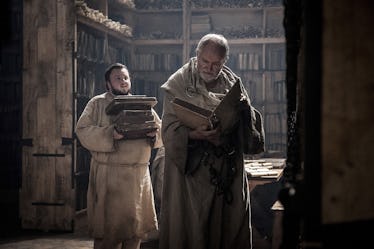 5 Gifts For 'Game Of Thrones' Fans Now That Winter Is Coming
HBO
Everyone in Westeros keeps saying that "Winter Is Coming," but few seem to understand just what that portends: You're running out of time to do the Christmas (and Hanukkah) shopping! Winter is coming! Quick, quick! Time to hit the internet to find the perfect gifts for Game Of Thrones fans of all types.
Whether they're the homebody type who want to chill on the couch, the schmoozer type who throw parties to rub elbows with other players in the Great Game, fashionistas who want to look fabulous, someone who just needs a helping hand, or the Mother of Dragons herself, we've got some of the best ideas to help inspire you this holiday season.
Of course, the easiest thing is to go to HBO.com and shop all the official merchandise. Those have the benefit of having the production's seal of approval. There's also MEY London, which is Game of Thrones costume designer Michele Clapton's own shop, where she sells the real deal accessories she designed for the show.
But for those looking for something a little different (or a little more budget conscious), we suggest heading to Etsy.com, where handmade fan creations abound. There's something for almost everyone who loves Game of Thrones for sale.
Check out some of our picks.
Drinking Glasses
Stemless Wine Glasses, $9 each, Etsy
Let's start with one of the easiest thing, especially for those who have moved into a new place recently and are looking to stock their kitchen for parties: drinking glasses.
These stemless wine glasses with custom etched quotes from The 904 Store on Etsy can be ordered singly for $9 a piece or as a dozen, depending on how many glasses (and quotes from the show) you think their household needs.
Throw Pillows
Map Throw Pillow Cover, $5, Etsy
What friends who love Game of Thrones really need are items that reveal their fandom but also have a good everyday use. And who doesn't need more pillows? There's an entire commercial about it: Moar Pillows.
Etsy has tons of options, but we're partial to the Planetos "map of the world" image printed on this one from This Shop Really Rocks. It's a sensible price too, at under $5. That means you can order multiple pillows. And we all know that's what we really want: Moar Pillows.
Door Stops
Hodor Doorstop, $12 each, Etsy
When these Hodor Doorstops first came out during Season 6, everyone yelled "too soon, too soon." But it's been over a year now since Hodor sacrificed himself to save Bran Stark. That means it's definitely time to move on and have Hodor sacrifice himself for your household, or office.
There are several versions of these, but most either have the word "HODOR" as the doorstop, or the carving of him holding the door. The ones at RnDx2 have both, and they're well priced at $12 a pop.
Game of Thrones Jewelry
Dragon-Inspired Choker, $62, Etsy
There are tons of jewelry pieces for the Game of Thrones fan on Etsy. I could do an entire post on nothing but jewelry, in fact. There's the stuff that's inspired by quotes from the show, there's the pendants that have little segments from the novels embedded in them, and there are replicas of the stuff worn by the characters, from Sansa to Cersei.
But it's the striking necklaces worn by Daenerys starting in Season 5 that I love the most. You can find this dragon-inspired choker from Ravens Jewellery UK for $62. Far more affordable that the real thing, which runs $2,730 on MEY.
Game of Thrones Shoes
But you know the Game of Thrones fan who really deserves to have someone splurge for her? You. And you know what you've earned? The right to sit on the Iron Throne and rule your kingdom as you see fit.
Now, there's no real Iron Throne for sale. But there is something just as good: The Iron Shoes. Enormous heels made of melted swords for you to tower over those below you and rule your little kingdom (or apartment and cats) as you see fit.
These babies are available from the Promethean Art shop on Etsy and run $250. But really, it's a small price to pay to take what is yours with fire and blood.