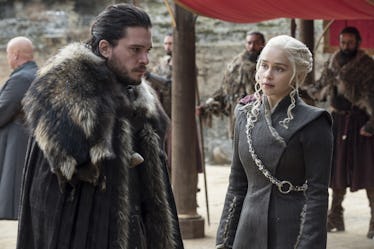 5 'Game Of Thrones' Season 8 Jon Snow Theories That Will Make You Question Everything
HBO
Game of Thrones Season 8 is still nine months away, at minimum, with no sign of any sort of premiere date, footage, or trailers to be seen ahead of the nebulous "2019" release. The longer the wait, the antsier fans get and the wilder the theories become. Most of the theories at this point center around two characters: Mother of Dragons, Daenerys Targaryen, and King in the North, Jon Snow (who we learned at the end of last season is actually Aegon Targaryen). Most of the Game Of Thrones Season 8 theories come from their relationship and from the discovery of who he is.
Jon Snow's fate has taken on an outsized importance in this final season, ever since he came back from the dead. In the early seasons of the show, when it was far more of an ensemble piece, there didn't seem to be a "Chosen One" character. All the designated "heroes," like Ned and Robb Stark, met ugly ends early on. It wasn't until Jon Snow managed to cheat death that it became clear we would have a lead actor in the series by the time it was done, one whose fate will change Westeros.
Here is a rundown of some of the most plausible theories of what will happen to Jon in the final six episodes.