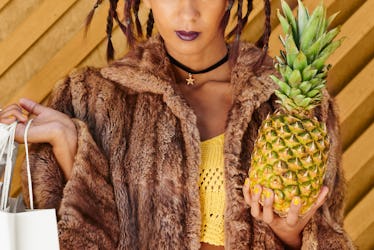 Experts Say Eating Any Of These 5 Foods Can Help You Feel Confident On An Off Day
Aila Images, Stocksy
One of the biggest factors that can affect my entire day is how confident I'm feeling. Of course, it's totally normal to have days when you're not as on top of things as usual, but personally, I still do my best to make sure I'm feeling relatively confident as often as possible. Sometimes this means adding color to my outfit with a bright top or a bold lip, or blasting female pop anthems while I go for a long run. According to experts, the foods you eat can also help you feel more confident, and luckily for you, they have some great recommendations to offer.
In addition to nourishing your brain with these confidence-boosting foods, make sure you aren't eating too many of the foods that can have the opposite effect on your body. If you want to support a positive mood, Dr. Mike Roussell, Ph.D., co-founder of Neuro Coffee and Neutein, suggests making sure you aren't overdoing it on stimulants like coffee.
"People who eat diets high in sugar (soda, cookies, candy, etc.) are at a significantly higher risk of depression compared to those who eat a lower sugar diet," he tells Elite Daily in an email.
Aside from finding balance in your caffeine and junk food indulgences, stock up on these five foods to boost your self confidence.