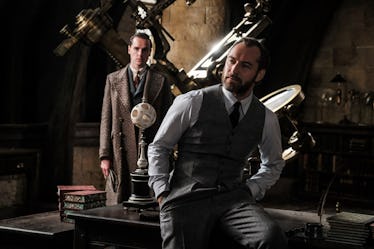 5 'Fantastic Beasts: The Crimes Of Grindelwald' Theories That Will Put A Spell On You
Warner Brothers
Crank up the Tumblrs and the fan theory corners of Reddit, there's a new wizarding world movie on the way. It there's one thing Harry Potter fans are known for, other than their fan fiction, it's their abilities to spin fan theories from here until the dragons come home. The new trailer for the sequel to Fantastic Beasts And Where To Find Them certainly gave everyone a lot to chew on. Since it's arrival, the Fantastic Beasts: The Crimes Of Grindelwald theories have been coming thick and fast.
Nor should we expect the theories to slow down anytime soon. Even those who are not major fans of the new film series — or feel a little perplexed by the bait-and-switch of the first film, which promised fans a story about a mild-mannered Hufflepuff in a fish-out-of-water situation in New York but then turned out to actually be the prologue for the famous 1945 Grindelwald-Dumbledore showdown — are wild for all the new details about the Wizarding World that these films provide.
So, let us sit down and go over some of the biggest theories that have come out of watching the first trailer, and discuss what we might learn in Fantastic Beasts: The Crimes Of Grindelwald.