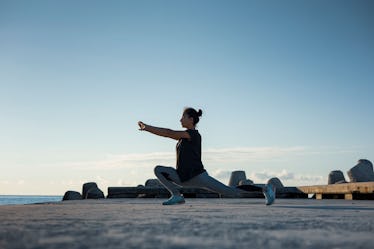 Personal Trainers Say These 5 Workouts Will Make Running Easier, Even If You Hate It
There are only two kinds of people in this world: running enthusiasts, and those who firmly stand by the fact that running is the bane of their existence. Just because the latter group hates running, though, doesn't mean they never do it, because after all, it is a great workout, not just for your body, but also your brain. Fortunately, for those of us who aren't that fond of this cardio workout, there are some exercises that make running easier — so maybe, just maybe, one day you can start to enjoy a nice, mind-clearing jog from time to time.
If you're perplexed as to why running is so hard for you in the first place, especially when it seems like everyone else you know can casually crush a five-mile run with ease, Tyler Spraul, a certified strength and conditioning specialist and the head trainer at Exercise.com, says it might be because you're not complementing those jogs with strength-building workouts.
"Because [they have] to absorb a lot of impact while running (especially if they run on pavement), runners should be doing lower-body strength exercises to build up strength and increase joint mobility to help prevent injuries," Spraul tells Elite Daily over email. "If you haven't been doing anything but running, adding exercises like this to your routine can lead to a big boost in your running performance."
But is it really that simple? Spraul thinks so, and he says there are a select few exercises that can help improve your ability to run — that is, if you're willing to commit to them on a regular basis. These five moves strengthen your muscles and connective tissues, so you'll be better equipped to deal with the toll that running takes on your body.