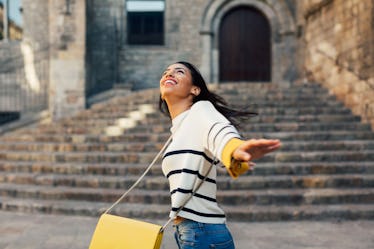 You Might Not Realize It, But These 5 Everyday Things Can Really Help Clear Your Mind
What makes human consciousness just keep on keepin' on has been at the center of spiritual and scientific conversations since, like, the dawn of time, right? Now, while the mind is a beautiful, strange machine, being aware all the time, and constantly inputting and outputting information, can have its disadvantages. Whether you're contemplating universal mysteries or watching Parks and Rec while making cupcakes and talking to your sister on the phone, your noggin just gets clogged sometimes — which is why it's so important to figure out everyday things that clear your mind to keep you centered, calm, and TBH, sane.
The real bummer here is that, not only can your mind be filled to the brim with thoughts, responsibilities, and daily to-dos, but the thoughts themselves can sometimes get stuck in a rather negative, and even anxiety-driven cycle. In fact, according to The Office on Women's Health, one in five people in the United States are affected by anxiety, and what's worse, women are more than twice as likely as men to be diagnosed with an anxiety disorder.
Do you relate? Because I do, y'all. I definitely do. And when it comes to the cluttered, chattering peanut gallery that is the brain, in the immortal words of Queen, I want to break free. And with these mind-clearing tips from the pros, it's totally possible to do so.