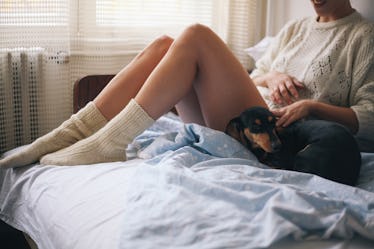 5 Dog & Owner Pajamas Meant For Your Lazy Sundays Chilling With The Fur Bae
Furry friends are the best and purest souls in anyone's life. Their little eyes are so kind and innocent, and they deserve the whole world, let alone our undivided attention. All pets are awesome, but there's just something about dogs that make you feel extra loved. Maybe it's the sloppy kisses or the undivided attention when you walk into the room, but they always make you know how much they love you (which is a lot). They're already cute, but why not get them some matching dog and owner pajamas for your pup to show off your fur-ball companion.
You can't really go wrong with a matching set with your pup when you're lounging around the house. Nowadays you can find shirts, headbands, and other goodies to be #twinning with your favorite doggo, but pajamas just add an extra level of cuteness that we really can't handle. And they'll be looking fly AF on your Instagram, too.
Of course you love to pamper your sweet fur baby, because who doesn't? And whether you want to splurge or not, there are a ton of matching PJ options for you and your boo (and you can actually buy full "family" sets for your human boo as well, if they want in on the fun). Some items to start your hunt are listed below.