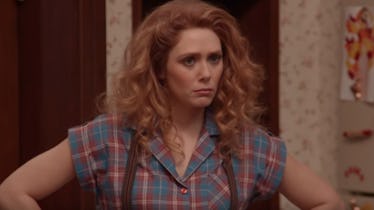 5 Details In Disney+'s Marvel Studios Ad You Definitely Missed
Marvel
When Disney+ dropped an ad during the Super Bowl for its upcoming slate of Marvel films, fans were surprised and delighted. After 22 movies and counting, the Marvel Cinematic Universe is finally coming to prestige TV, in the form of "Limited Series." The first three shows, arriving in the fall of 2020 and the spring of 2021, are Falcon & The Winter Soldier, WandaVision, and Loki. These details in Disney+'s Marvel Studios ad for all three shows hint that nothing will go as fans expect.
But perhaps the biggest surprise is not of the shows themselves, but the change in logo. Up until now, Marvel Studios has only done the big-screen films, while Marvel TV produced small-screen fare like Marvel's Agents of S.H.I.E.L.D. In November, it was announced Marvel TV would fold into Marvel Studios, so one studio now creates both. But even so, there's still a division. "Marvel Studios" on the big-screen has a red logo. "Marvel Studios" for Disney+, Hulu, and ABC has a blue one, which just so happens to be the same blue as Disney+.
What other secrets and spoilers are hidden away in this 30-second advert? Let's go through all three shows and pull out the nitty-gritty details.