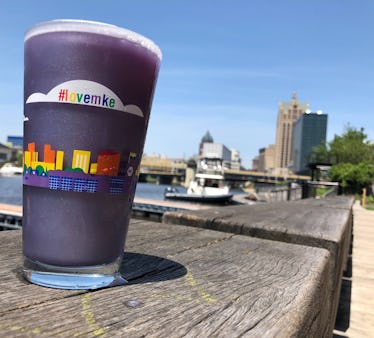 5 Colorful Pride Month Beers To Cheers With If You Want To Continue Celebrating
Breweries from coast to coast are fermenting new beers for the duration of June to commemorate Pride month. From rainbow pint glasses to purple glitter brews, there's certainly no shortage of ways to show your support for the LGBTQ+ community this month when it comes to all things libations. Raise a glass and toast to celebrate Pride month with these colorful beers.
Before you pour yourself an ice cold one, it's a good idea to familiarize yourself with the history behind Pride Month. It is great to celebrate and all, but understanding the importance of the month will make your celebratory salute that much more meaningful. Marc Stein, professor of history at San Francisco State University and author of Rethinking the Gay and Lesbian Movement, spoke to Elite Daily reporter Jamie Kravitz about the origin of the month.
"Pride is generally celebrated in June to mark the anniversary of the Stonewall Riots, which took place over the course of a week in late June and early July in 1969," Stein said.
At the time, The Stonewall Inn, located in Greenwich Village, NYC, was one of the only gay bars that provided a safe haven for the LGBTQ+ community to drink and dance. Police raided the bar on June 28, 1969. In the week that followed, fed up patrons of the bar protested, which signaled the beginning of the historic LGBTQ+ rights movement.
Here are some colorful brews and pints you can get to commemorate Pride Month.