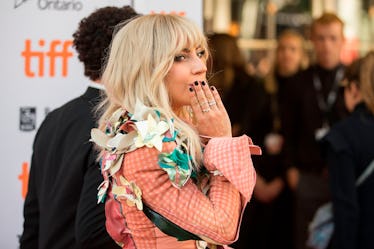 5 Celebrities Living With Fibromyalgia Who Use Their Platform To Spread Awareness
GEOFF ROBINS/AFP/Getty Images
Fibromyalgia is one of those conditions that's a little difficult to explain, largely because the symptoms can be somewhat hard to pin down, and they can easily be attributed to other causes. It's marked most commonly by widespread chronic pain, general fatigue, or a consistent, dull ache in your limbs. As you can imagine, this can also make it somewhat challenging to diagnose and treat; because of this, fibromyalgia is often referred to as "the invisible illness." That's why seeing celebrities with fibromyalgia who open up to the world about living with the condition, and who use their platform to spread awareness, are so empowering to those who may be struggling for a sense of validation and support when it comes to this often misunderstood illness.
For a little more background on fibromyalgia, common symptoms can also include muscle tenderness, mental fogginess, joint stiffness, sleep troubles, mood swings, and psychological stress. The condition is a complicated one, in that it doesn't have a cure just yet, though factors like genetics and traumatic experiences are thought to play a role in triggering the condition.
Again, it's important to recognize that living with chronic pain is a very real, very difficult daily reality for many people. If you, too, are struggling with some of these symptoms, have been recently diagnosed, or even know someone who has to deal with chronic pain on a daily basis, know that you aren't alone, and there are real people with huge, influential platforms out there who are willing to speak about the challenges and drop some #TruthBombs on what living with fibromyalgia is really like.