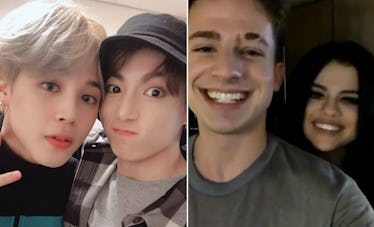 5 BTS Covers Of Other Artists' Music That Will Make You Love Them Even More
Twitter/BTS_twt; Instagram/CharliePuth
It's a BTS world and we're all just living in it. The K-pop boyband is taking over the music universe one impeccably synchronized dance move at a time. The seven members can't stop pumping out hits, charming the heck out of audiences in interviews, and dominating the performance stage. But, that's not all they do. They, like all of us, take an invested interest in their music contemporaries' work and have created some pretty epic covers of other famous songs you know and love. These five BTS covers of other artists' music will make you love them more, if that's even possible.
Right now, fans are vibrating thanks to the news about the upcoming BTS movie, Burn The Stage, which dropped its first trailer on Tuesday, Oct. 22. The film will follow the group through their 2017 Live Trilogy Episode III: The Wings Tour, heavily featuring tunes from the boys' 2016 album, Wings. Today, tracks like "Idol, "Fake Love," "DNA," and "Mic Drop" are rocking the charts, but they have even more tricks up their sleeves. For example, here are five epic BTS covers of your fave songs you maybe didn't know about...
Who am I kidding? Yes, you probably did. Anything Jungkook, Jimin, V, Suga, RM, Jin, and J-Hope touch turns to gold, including an Adele cover.
Get real.
Charlie Puth and Selena Gomez's "We Don't Talk Anymore" — Jimin and Jungkook
Isn't this just a majestic joyful romp? Jimin and Jungkook bring a great energy to Gomez and Puth's original track without changing the song too much. They didn't even change the pronouns, which is pretty awesome and so refreshing. The result is as soothing as it is catchy.
Adele's "Someone Like You" - V
Um, hi. Yes. More of the moody street walking, please. V's take on Adele's classic love ballad was a risk (it is Adele we're talking about here) but the payoff is really amazing and lovely.
Justin Bieber's "Mistletoe" - Jimin and Jungkook
OK. So in this case, Jimin and Jungkook took Bieber's Christmas classic "Mistletoe" and changed the title to "Christmas Day." They also tweaked the lyrics a little bit, jumping between Korean and English words. I'm not mad, though. The more Bieber covers the better, that's what I always say!
Tori Kelly's "Paper Hearts" - Jungkook
Jungkook's eerily beautiful take on Kelly's "Paper Hearts" has me feeling things, you guys! His musicality and tone are similar to hers in range, but is it just me or is the sentimentality a little heavier in Jungkook's version? I don't know! I'm just spitballing over here!
David Guetta and Justin Bieber's "2U" - Jungkook
This. Makes. Sense. How long do we need to wait for a real BTS and Justin Bieber collaboration, huh? What's an ARMY gotta do to make this dream come true?!
For now, just continue to watch TV and listen to music, apparently, because these guys are everywhere.
In a recent interview with Jimmy Fallon, the boys spoke about the meaning behind their albums and it tugged at all of my heart strings. Group leader RM explained, "It's mainly about speaking yourself, instead of letting other people speak for you."
Unless, of course, you're talking about covering other artists' music. Then it's ok if BTS speaks for them.