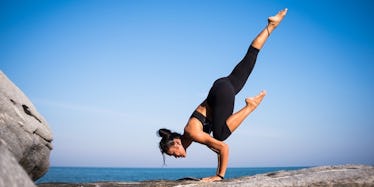 5 Workouts For Type A Personalities Who Can't Help Their Competitive Nature
Pixabay
If your friends have ever joked that you literally never skip a workout — even when you have a 5 a.m. flight the next morning, or right after you just injured your wrist from working out too hard — you're probably Type A as hell. TBH, there's nothing wrong with the "go hard or go home" mentality, but with your characteristics, you tend to slightly overdo it at times. That's why knowing the best workouts for your personality will keep you from inevitable burnout and help you find a healthy, rewarding balance in your fitness routine.
Huffington Post reports that research has shown your personality type can be strongly correlated with the way you work out and how dedicated you are to the #gains. And if you're Type A, that means you basically live by the "all or nothing" mindset, and you kind of can't help the fact that you're competitive AF. Like, you were that person in your high school gym class who got way, way too hyped over volleyball and dodgeball games.
Of course, listening to your body is super important in general when it comes to working out, but it's especially key if you have a Type A personality, since you probably have a tendency to push your limits a bit too far, even when your muscles are begging for a rest day. Remember, less is often more when it comes to your workouts, so don't feel like you have to give 110 percent all day, every day.
Here are five workouts for Type A personalities who just can't help their competitive, go-getter nature.