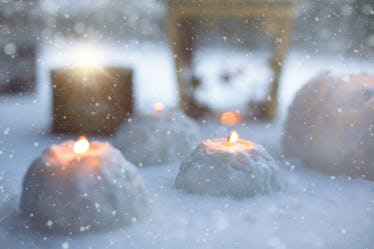 5 Best Christmas Candles That'll Have Your Apartment Smelling Like The Holidays
'Tis the season for store windows to be filled with festive attire, and almost every other commercial is showing a holiday sale of some sort. We also can't escape the hums or clips of Christmas songs in the air. (After working in a bakery for two holiday seasons, I am all "Jingle-Bell"-ed out.) All in all, there are some great things to look forward to throughout the merriest season — for example, getting your place all decked out. And what better way to do that than picking out some of the best Christmas candles that'll make your apartment smell like the holidays?
Candles are the ultimate Christmas decor due to the fact that they not only look nice as hell, but they can also really get you into the festive spirit (even if you're like me and it takes a little more nudging to do so). A candle is the perfect holiday present to yourself because it will naturally relax you, which is necessary when holiday stress is too much to handle.
Candle companies also go hard for their holiday collections, so no matter where you get your wick-fix, it's going to be a great buy. Whether you're hosting a party or just lounging before family comes to visit, these candles will surely spruce up your living space. They all come in various sizes as well so that you can buy whichever option your wallet pleases.
Here are five Christmas candles that will have your home sweet home smelling like the holidays in no time.