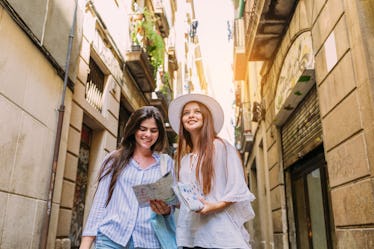 Don't Be A Grinch: These Airbnb Experiences Will Seriously Improve Your Holiday Layover
Holiday travel is always exciting for everyone involved, but it can be stressful as well. During the holidays, everyone seems to be hitting the road. Families are flying across the country to enjoy a turkey dinner together, couples are escaping the cold for tropical getaways, and cousins are meeting up to spend Christmas together. It's amazing to reunite with family members you haven't seen in a while, but the logistical aspect of travel can wear on anybody. If you experience a cancellation, delay, or have a long layover, don't fret. These are the best Airbnb experiences to do over the holidays. You'll pass the time and make unforgettable memories in the process.
There are some travel hiccups you just can't avoid. With large amounts of people traveling and unexpected changes in weather, delays seem to be more common during the holidays. I think that most of us can agree that this is the absolute worst time to experience cancellations or delays, but it's an unfortunate possibility. So, what do you do in the midst of these circumstances? Consider getting out of the airport and experiencing all that your current city has to offer.
While Airbnb is known for their home rentals, they also offer really unique tours and experiences with local hosts. There's something for everyone on Airbnb Experiences, and they're a great way to pass the time. Let's just say, you're in for a treat. Travel is all about making the most out of every situation, so keep calm and carry on.