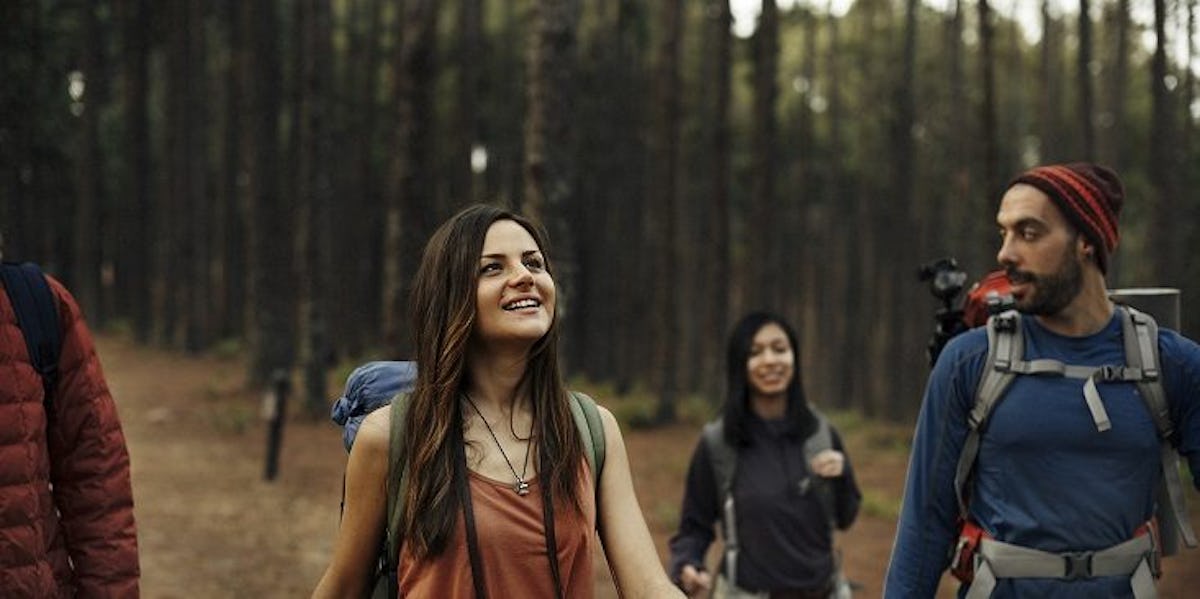 7 Airbnb Experiences The Adventurous Traveler And Her BFF Need To Do ASAP
Camp Forest Adventure Travel Relax Concept/Shutterstock
Are you and your BFF ready for an unforgettable experience? Aside from being a convenient online source to find a place to crash in a new city or country, Airbnb has another amazing feature where you can pay for hosts to take you on awesome adventures. Where has this been all of our lives? The best Airbnb experiences are not only personable and fun, but you leave with way more than you came with.
Whether you're going on a guided tour or learning a new skill, these experiences are just the fix you and your adventurous bestie need to feel fulfilled. Search by category and find something to do for any time of the day. It's never a dull moment if you're looking through these awesome opportunities. Before you get too concerned about pricing, you'll literally spend more on food in the next day or two. Many of these are incredibly affordable but rich in the amazing fun you and your girl can have together.
Even if you don't travel far from your city, seeing your stomping grounds from a totally different perspective is certainly rewarding. Clearly, we aren't all experiencing a place the same way. Getting out there and hopping into someone else's everyday life is basically the definition of adventure and excitement. So, it's time to saddle up, because there are more than a few of these experiences for you and your BFF to enjoy.
1. Night Paddle Board Or Kayak Through Downtown Miami
Night SUP and Kayak tour, $49 per person, Airbnb
Of course everyone loves the nightlife of Miami. How many people can say that they literally floated through the night on their paddle board? Get a different view of Miami from the water and cross paddle boarding off your bucket list. Also, since it's at night, there are less people to see you make a splash if you lose your footing.
2. Hike Runyon Canyon With A Rescue Dog
Hike Runyon Canyon with a rescue dog, $35 per person, Airbnb
Not only are you getting a rejuvenating hike in, but you're also getting sweet rescue pups the exposure they need so that they can get adopted. And let's be honest, who doesn't like a good hike with an even better view? Runyon Canyon is full of spectacular scenery for photo opportunities. Hike one way, and you'll see the Hollywood sign, and maybe even a random celeb. The pups will appreciate it, and the hike is certainly worth every second.
3. Secret Hidden Bars Tour In Chicago
Secret Hidden Bars Tour, $68 per person, Airbnb
Come on, we all want the lowdown on those super cool hole in the wall places. If it's a secret, we want in, and we want in STAT. Get access to three Chicago bars, including a speakeasy-inspired venue, a spot with lounge vibes, and the last stop on the list that highlights a velvet, stylish backdrop.
4. Sunset Meditation On Santa Monica Beach
Meditate at the beach, $25 per person, Airbnb
OK, maybe this is more of an adventure of the mind, but it still makes for a good time. Meditation on the beach couldn't get anymore zen than this. Learn how to exhibit being mindful in your daily life, while taking in the exquisite sunset. You can't go wrong with that.
5. Wine Tasting While Sailing The Mediterranean
Wine & the Sea, $137 per person, Airbnb
Experience an unparalleled taste of Spain by sipping Spanish wines, all while sailing along the breathtaking Barcelona coastline. While you're enjoying your wine, brush up on some history that the host's family has passed down generation after generation. It's time to get your wine on with your bestie by your side.
6. Discover Hidden Gems Of Dublin
Meet the Locals, $44 per person, Airbnb
Join this Czech jewelry designer and artist on a trek through the beautiful city of Dublin. As much as you two are quite the gems yourselves, unveiling those gems in the city will be fun. Get a taste of Ireland and make a new friend along the way.
7. Sake Tasting In Japan
Taste Over 100 Craft Sake, $77 per person, Airbnb
Get a private sake tasting experience with a Certified Sake Professional. With this epic experience, you have the opportunity to sample as many as 100 different sake from 40 different producers throughout Japan. That's a lot of sake, but you're definitely not complaining. There are so many Airbnb experiences to be had in numerous countries and cities. You and your bff will bond while making everlasting memories with incredible hosts and fellow adventurers.