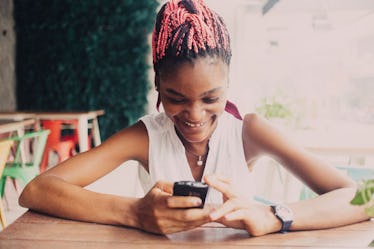 These 5 Apps Will Ease You Back Into The Semester If Your Brain Feels Like Mush RN
This week I, like many people, started a new semester of grad school. After my first class, I knew it was time to leave the Netflix marathons and YouTube wormholes behind and really dive into activities that would help keep my brain running at its smoothest. But at the end (or even beginning) of a long day, the last thing I want to do is anything that requires even the tiniest bit of brainpower. Luckily, these apps that strengthen the brain will pull you back into the right mindset for the new school year without completely draining you.
Because these apps are all designed to build your brain power, your happiness, or even your stress tolerance in the most relaxing ways possible, you'll be able to swap your usual time toggling between social media apps for a host of fun games and exercises that won't even feel like you're learning. Also, every app on this list is free, because I don't know about you, but I'd rather spend those extra couple bucks on treats to reward myself for a good study session than put them into buying brain games.
So the next time you have a couple of minutes in between classes, or even right before bed, download one of these winners and know that your phone time will genuinely benefit you.