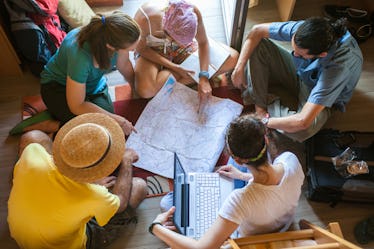 The Best Amalfi Coast Hostels That Are Perfect For Broke Study Abroad Students
Let's be honest, Italy is the study abroad destination of most of our dreams. Rome is full of ancient history, Florence is an art lover's paradise, Venice makes us want to fall in love, the rolling hills of Tuscany were made for wine lovers, Cinque Terre seems unreal, and Burano is a perfectly Instagrammable backdrop. Don't even get me started on the Amalfi Coast! This Mediterranean gem is a must-visit spot if you're studying abroad in Italy. I know the broke college student struggle, so these Amalfi Coast hostels will help you visit so many places on a budget.
You've probably seen your favorite travel blogger posted in the pastel-colored cliffside town of Positano, but this only scratches the surface of what the region has to offer. If you're wondering how to travel through Amalfi Coast on a study abroad student's budget, then you may want to consider checking into a hostel. Hostels are shared accommodations that help you to stretch your dollar as far as possible. Basically, you'll sacrifice a bit of luxury to see the country of your dreams. So, don't doubt your ability to visit Positano as a study abroad student. If you stay in one of these hostels, then your travel dreams might just become a reality.