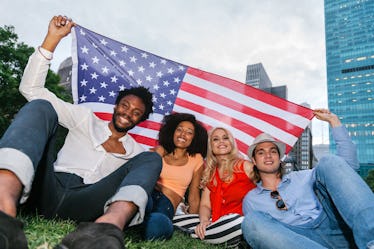 5 Affordable Ways To Celebrate The Fourth Of July Without Blowing Your Budget
Happy Independence day! It's officially time to celebrate this Fourth of July with family, friends, fireworks, fun, and food. You finally have a day off from work, so why not spend it with the people you love most? There are so many ways you can enjoy the day without blowing your summer budget. Fireworks can be expensive, and a road trip to the beach might be more than you bargained for, but you don't have to miss out on all of the festive vibes. If you're looking for affordable ways to celebrate the Fourth of July with your crew, I've got you covered.
Most people celebrate the Fourth of July with pool parties, beach trips, and barbecues. These are all great ways to spend the day, but low-cost options also exist. You may have to get a bit creative, and honesty there's no better time to flex your DIY muscles. Bring out all of your red, white, and blue to get into the patriotic spirit this Fourth of July. You can arrange a cheap AF night on the town with your BFFs, or a cozy night in if crowds aren't really your thing. Don't be fooled into thinking that there's only one way to have fun. You won't have FOMO with these affordable ideas.