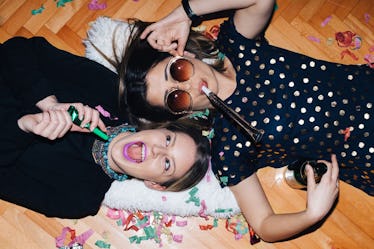 40 Sister Birthday Puns To Show Your Main Squeeze Some Lovin' On Her Special Day
If your sister's your bestie, you want to celebrate having her in your life on a daily basis. Though, her birthday is when the real party goes down. As her sis, you have the honor of ringing in pretty much every single birthday she's had. Make the most of this year by posting a throwback pic to Instagram of you two with some funny sister birthday puns for the caption. She will appreciate the spotlight, and love the clever way you wish her a happy day.
If you and your sister are long-distance, this is an easy and thoughtful way to show her you care. Even if you're still attached at the hip, she'll love the attention you give her on your feed. Now, all that's left is picking out the right pic. There are a ton of throwback photos of you two together, and they all deserve to be seen, so narrowing it down to the the right one to post may be difficult. Don't sweat the caption, though, because I've got you covered with these 40 sister puns. Everyone loves a good pun, just as much as you love your sister.
1. "Have a toad-ally awesome birthday, sister." — Unknown
2. "Have an otterly wonderful birthday, sis." — Unknown
3. "Hey sister, have an egg-cellent birthday." — Unknown
4. "So, it's your birthday. That's kind of a big dill. I was in a bit of a pickle thinking about what to get you. I was gherkin on it for quite a while. I hope you relish it." — Unknown
5. "Sister to sister we will always be, a couple of nuts from the same tree." — Unknown
6. "Happy birthday, sistar." — Unknown
7. "Oh ship, it's your birthday." — Unknown
8. "You're another year older, but you donut look it." — Unknown
9. "Happy bark day." — Unknown
10. "A-parrot-ly, it's your birthday. Hope it's a great one, sis." — Unknown
11. "Have a soup-erb day." — Unknown
12. "Happy bee-day." — Unknown
13. "You're meow old? Happy birthday to a sister who is one cool cat at any age." — Unknown
14. "It's sherbet day." — Unknown
15. "Avo awesome birthday, sister." — Unknown
16. "I love you to pizzas. Happy birthday sister." — Unknown
17. "Sis, you are dino-mite." — Unknown
18. "Happy birthday to one cool chick." — Unknown
19. "Orange you glad it's your birthday?" — Unknown
20. "Today, you run the world! Happy birth-Bey." — Unknown
21. "It's your birthday. Turn up the beet." — Unknown
22. "Have an ice birthday." — Unknown
23. "Have a tea-riffic birthday, sis!" — Unknown
24. "I can't espresso how much you bean to me, sis. Happy birthday." — Unknown
25. "I donut what I'd do without you. Happy birthday!" — Unknown
26. "Being related to me is really the only gift you need." — Unknown
27. "Dim sum-body say it's your birthday?" — Unknown
28. "Yoda best sister." — Unknown
29. "You feta have a gouda birthday." — Unknown
30. "Sending you s'more birthday wishes, sis." — Unknown
31. "Have a rawrsome birthday." — Unknown
32. "Hippo hooray, it's your birthday." — Unknown
33. "Raisin a toast to your birthday." — Unknown
34. "Have a pawesome birthday, sis." — Unknown
35. "Happy birthday to one fine-apple from another fine-apple." — Unknown
36. "Have a flan-tastic birthday." — Unknown
37. "I love you from my head tomatoes. Happy birthday sister." — Unknown
38. "Have a wheely good birthday." — Unknown
39. "It's your birthday, lettuce celebrate." — Unknown
40. "Hope you have a flocking fabulous birthday, sister." — Unknown