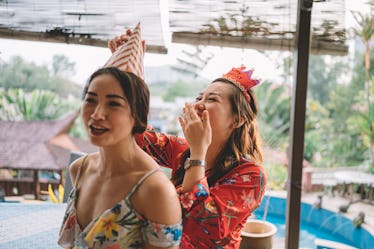 16 Instagram Captions For Your Sister's Birthday To Make It Even Sweeter
Every day is a day to celebrate your sister, but her birthday clearly takes the cake for a specific time to be incredibly grateful for her. Think about it — without her birthday, you wouldn't have your sister or an unforgettable bond you share with an absolutely amazing human being. It's easy to be at a loss for words when it comes to describing the love you have for your sibling. Any of those heartfelt words or thoughts are good material for Instagram captions for your sister's birthday.
We all know how tear-jerking an adorable throwback pic of you and your sis can be (along with a cute saying or caption to follow). It's prime time to show your bestie how important this day is, not only to her, but to you, because it literally marks her very existence in your life. And let's face it, where the heck would your life be without your sister? Sisters basically popped out of the womb as our lifelong friends, and we appreciate every ounce they have to give.
Sisterly love is undying and loyal as hell, which means those words of yours have to support that cute pic just right. We don't get to choose who our sisters are, but we sure enjoy riding along for the journey towards their growth and who they are meant to be. So, if you're a tad torn on how exactly to encompass the love for your sister in an Instagram post, take some inspiration from a few heartwarming quotes:
1. "I smile because you're my sister, I laugh because there's nothing you can do about it."
2. "Sisters share childhood memories and grown-up dreams."
3. "A sister is a little bit of childhood that can never be lost." — Marion C. Garretty
4. "Of two sisters one is always the watcher, one the dancer." — Louise Glück
5. "You may be as different as the sun and the moon, but the same blood flows through both your hearts. You need her, as she needs you..." — George R.R. Martin
6. "We hang out, we help one another, we tell one another our worst fears and biggest secrets, and then just like real sisters, we listen and don't judge." — Adriana Trigiani
7. "I'm a spark and you're a boom." — Troye Sivan
8. "Sisters function as safety nets in a chaotic world simply by being there for each other." — Carol Saline
9. "A sister can be seen as someone who is both ourselves and very much not ourselves — a special kind of double." — Toni Morrison
10. "There can be no situation in life in which the conversation of my dear sister will not administer some comfort to me." — Mary Montagu
11. "The best thing about having a sister was that I always had a friend." — Cali Rae Turner
12. "Our roots say we're sisters, our hearts say we're friends."
13. "A sister is a gift to the heart, a friend to the spirit, a golden thread to the meaning of life." — Isadora James 
14. "We acquire friends and we make enemies, but our sisters come with the territory." — Evelyn Loeb
15. "In the cookies of life, sisters are the chocolate chips."
16. "Sisters annoy, interfere, criticize. Indulge in monumental sulks, in huffs, in snide remarks. Borrow. Break. Monopolize the bathroom. Are always underfoot. But if catastrophe should strike, sisters are there. Defending you against all comers." — Pam Brown