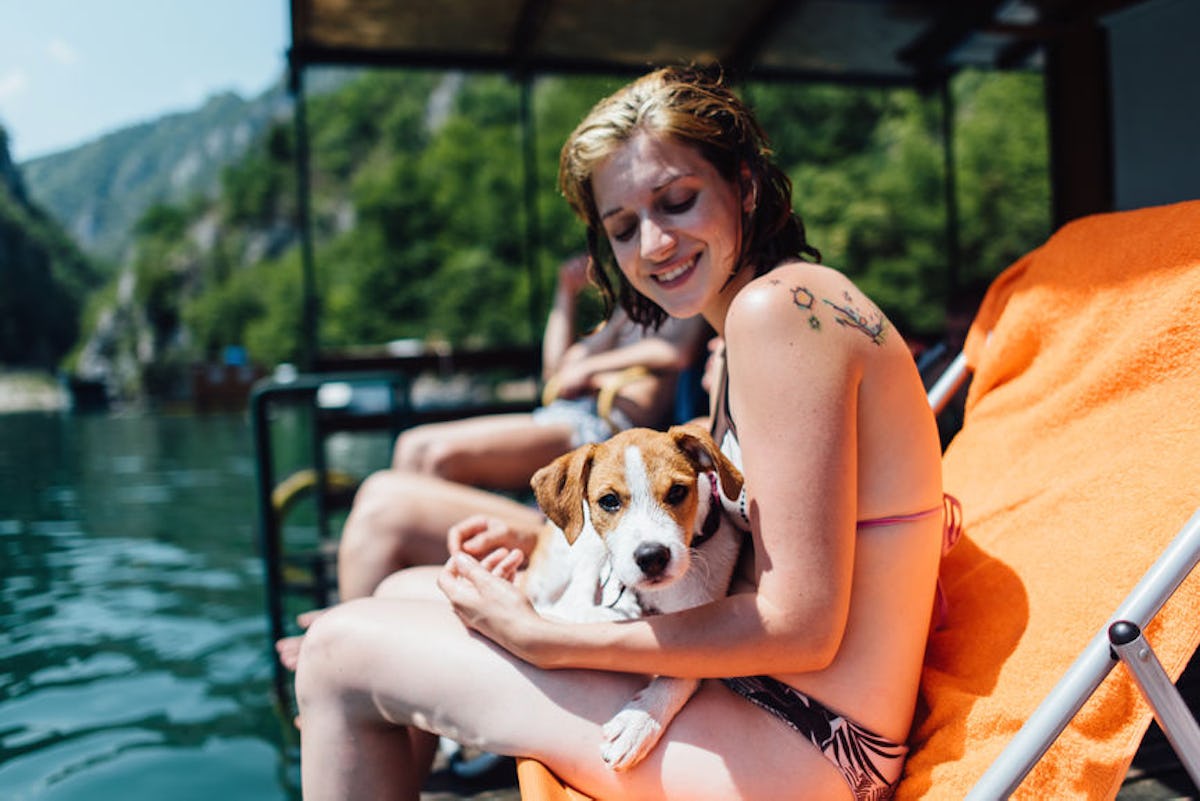 40 Insta Captions For Your Lake House Pics, Because It's Aboat That Time
Another summer means another trip to the lake house is already in the works. If your family has been taking vacations to the lake for years, this is yet another nostalgia-filled getaway for you to spend time with your favorite people and remember all the fun times you've had at this little slice of paradise. Maybe you're just planning a getaway with your besties in a house you scoped out on Airbnb. Either way, you'll need to pack some Instagram captions for lake house pics along with your swimsuits and sunnies.
Your days will be spent floating in the sunshine, and your nights are reserved for chilling. The whole trip will pretty much be jam-packed with fun that you definitely want to document, so use any of these 40 captions for when you want to share those memories on the 'Gram.
If you're bringing along one of those giant inflatables for your whole crew to float on, a #SquadGoals pic is necessary. Plus, you'll need to grab some candid shots of everyone making dinner in the kitchen, and the wind in your hair when you're driving up to the lake. Start compiling a list now of all the pics you need to capture, or just live in the moment and snap as it comes. It's whatever floats your boat.
1. "Life is better at the lake." — Unknown
2. "Better to wake at the lake." — Unknown
3. "Decks, docks, and flip flops." — Unknown
4. "Memories made at the lake last forever." — Unknown
5. "Life is at ease with a lake breeze." — Unknown
6. "Keeping it reel at the lake." — Unknown
7. "You float my boat." — Unknown
8. "Worry less, paddle more." — Unknown
9. "I lake you a lot!" — Unknown
10. "Aboat time." — Unknown
11. "Happiness comes in waves." — Unknown
12. "I'm a lakeaholic." — Unknown
13. "Lake hair, don't care." — Unknown
14. "I'm hooked. Like, for reels." — Unknown
15. "The sun, and the sand, and a drink in my hand." — Kenny Chesney, "No Shoes, No Shirt, No Problems"
16. "I could never in a hundred summers get tired of this." — Susan Branch
17. "Paradise found." — Unknown
18. "The tans will fade, but the memories will last forever." — Unknown
19. "I'm gonna soak up the sun." — Sheryl Crow, "Soak Up The Sun"
20. "Pier pressure keeps a dock floating above water." — Unknown
21. "I like big boats and I cannot lie." — Unknown
22. "Hello, summer." — Unknown
23. "Do whatever floats your boat." — Unknown
24. "Everything's s'more fun with you around." — Unknown
25. "Sometimes, the most productive thing you can do is relax." — Mark Black
26. "Chill mode on." — Unknown
27. "Good times and tan lines." — Unknown
28. "Going to the lake. Bear with me." — Unknown
29. "And we'll all float on okay." — Modest Mouse, "Float On"
30. "Time wasted at the lake is time well spent." — Unknown
31. "Girls just wanna have sun." — Unknown
32. "We got no troubles. Life is the bubbles." — The Little Mermaid, "Under The Sea"
33. "A splashing good time!" — Unknown
34. "We didn't realize we were making memories, we just knew we were having fun." — Winnie The Pooh
35. "Let's wander where the Wi-Fi is weak." — Unknown
36. "Sunshine on my mind." — Unknown
37. "Fill your life with adventures, not things. Have stories to tell, not stuff to show." — Unknown
38. "I want to lay down, let the sun hit my face, and forget about absolutely everything." — Unknown
39. "All my troubles wash away in the water." — Unknown
40. "Take me to the lake." — Unknown
This post was originally published on June 16, 2018. It was updated on Sept. 6, 2019 by Elite Daily Staff.