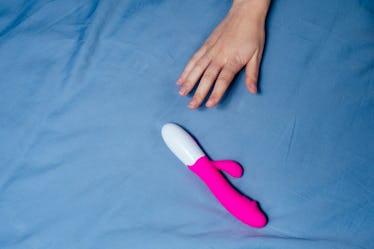 4 Zodiac Signs Who Masturbate Most Often, So Cancel Your Plans
Shutterstock
What's that sound? Oh, you don't hear anything? Ah, yes — the house is actually silent because you're home all alone. That's right: Your roommate is out on the town for the night. Since you have some coveted alone time, why not get creative? You can eat in your underwear and have a dance session while wearing a T-shirt and socks, Risky Business-style. And, if you're one of the zodiac signs that masturbate the most, you could also get down with yourself for a sexy masturbation sesh without worrying if whether or not anyone can hear what's going on. So, charge those sex toys because you'll need a sidekick that is going to last a while.
Don't get me wrong — you definitely don't have to wait for your roommate (or whomever you live with) to be on a date to masturbate. When it comes to pleasuring yourself, the right time is whatever time feels best for you and your body. However, be sure to respect the boundaries of those you live with before getting it on with yourself. The following signs are really in tune with what their bodies need and love to prioritize their own pleasure.
Whether the desire to go solo comes out of nowhere or you adorn your sudsy tub with flickering candles, your solo sesh can be as hot as that bathwater. Check out why the following signs love to get down with themselves.