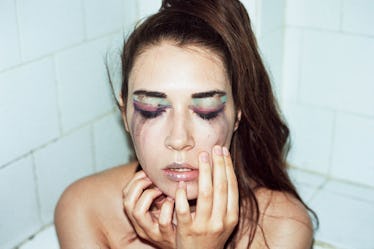 4 Zodiac Signs Most Likely To Have Messy Breakups, So Watch Out
"Breakups are easy, they're no big deal, and I love them," said no one ever. So many of us been through the emotional ringer of a breakup, and if even if you're the one who initiated the split, you probably still felt not-so-awesome for a while. Of course, all breakups are different and people handle them in different ways— maybe by moving on instantly or crying for weeks. One way to analyze and understand your breakup behavior is by looking at your zodiac sign. Some signs have smoother breakups and some zodiac signs have bad breakups that could practically belong in history books.
As an emotional and proud Scorpio, my post-breakup routine basically consists of calling all my friends to vent, making a bunch of plans to go out and party, and then cancelling those plans and sitting in the dark by myself. Healthy? Productive? Mature? Who cares! Handling a breakup is tough and you've gotta do whatever you need to get through it, short of lighting your ex's car on fire, of course. (Just visualize it instead.) While everyone handles breakups differently, understanding how your zodiac sign deals with a split can be helpful. Of all 12 zodiac signs, these four are the ones who tend to have the worst, toughest, and most emotional breakups.