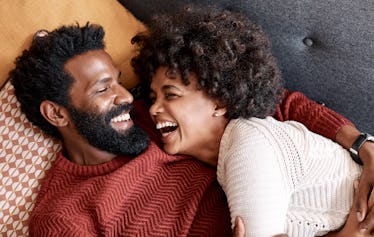 If You're An Extrovert, These 4 Zodiac Signs Could Be Your Perfect Match
kupicoo/E+/Getty Images
If you're an extrovert, you know the challenge of finding people who can keep up with you socially. Your constant enthusiasm is contagious, and you're probably always the life of the party. Since you get your energy from being around other people, you'd rather spend a Friday night out with your crew than sit at home watching Netflix to recharge. But when you're looking for a partner, the best zodiac signs to date if you're an extrovert are sometimes the ones who are a little more reserved.
You know the "opposites attract" idea. It's been the foundation of some of the most beloved TV and movie couples of all time. There's Rachel and Ross on Friends, Danny and Sandy on Grease, Angela and Dwight on The Office — the list goes on and on. There are many reasons that people gravitate toward dating their opposite. "People are attracted to qualities they admire in the other person, Priscilla Martinez, online life coach at Blush, previously told Elite Daily. "A lot of times, those are qualities that we don't actually have ourselves." Martinez explained that people seek "balance" when looking for a partner, even if they do so unintentionally. Dating someone who challenges your way of seeing things can bring excitement, spontaneity, and growth to your life.
That said, there's no perfect partner for anyone, and it really comes down to your individual connection with someone. But if you're seeking a good counterbalance to your extroverted tendencies, here are four zodiac signs who might be a great match for you.