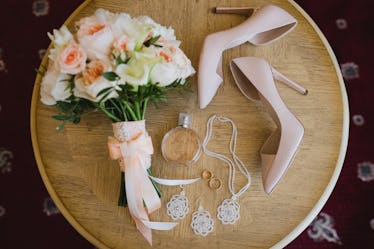 4 Zodiac Signs That Will Always Bring You Flowers, So Dust Off That Vase
Shutterstock
Giving someone flowers can be such a classic gesture of affection. IMHO, nothing says "I love you" like a dozen roses. Wondering if your boo is the type to show up on your doorstep with a bouquet? Look no further, because there are a few zodiac signs that will always bring you flowers. These signs love to appreciate their dates in old-school romantic ways. They understand that flowers can elevate any occasion and make their bae feel super adored.
If you're looking to impress bae, consider picking up a bushel on your way to your next date. It doesn't have to be a super lavish — in fact, many bodegas and grocery stores sell flowers for $5 and up. If you're interested in going all out, you could have a flower delivery service send a bouquet to your crush's office, in lieu of a romantic night out. Additionally, if your partner has a unique taste, they might really love an Edible Arrangement or a bouquet made of book pages. Whatever you end up going with, sending a bouquet out of the blue can light up any regular day.
If you're chomping at the bit to show up to a date with a bouquet, you're probably one of the following signs.