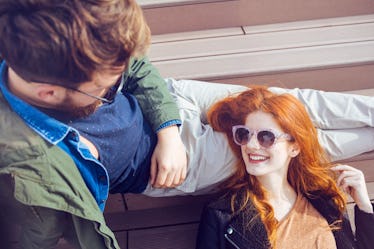 If You Trust Easily In Relationships, You're Probably One Of These 4 Zodiac Signs
When it comes to friendship, I am trusting to a fault. When I'm friends with someone, I go all the way in, open hearted. I have been burned time and time again by friends who didn't deserve my heart, and yet I never seem to fully learn that lesson. However, when it comes to romantic relationships... girl, they have to earn that trust. And while my different trusting styles may not make sense at first, the fact is, I am a Virgo — a sign somewhere towards the middle of the scale between zodiac signs that trust easily in relationships and those that are totally suspicious.
While trust is an essential part of a healthy relationship — I mean, why even be with someone you can't trust? — actually forming that connection can be hard for some people because of past baggage, or a potential innate suspicion of all other people. However, other folks enter every relationship with a clean slate, like this is the first time they've been with someone new. Often they focus on bringing out the good in people, so it becomes a self fulfilling prophecy by actually inspiring people to be their best. We could all probably learn a lot from those folks, TBH. So, does that sound familiar? If so, then you are probably one of the following signs who trust easily when they are in a relationship. It's also a good reminder that while its wonderful to be so open hearted and trusting, it's also smart to guard your heart a bit, too. Unfortunately not everyone deserves your trust, and its OK to make them work for it.