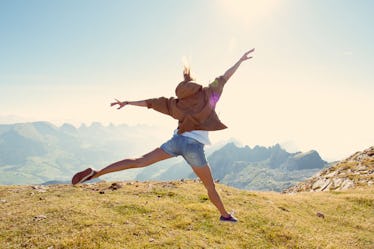 You Can Stimulate Creativity So Easily By Challenging Yourself To These 4 Workouts
Working out can do a whole lot more for you besides just strengthening your muscles. It can give you a sense of balance, help to reduce stress, and it can even help you get those creative juices flowing. That's right, friends: When you're stuck in a rut, getting your sweat on with workouts that help stimulate creativity can be a great way to find inspiration when it seems like it just doesn't want to find you.
You know the saying, "you don't grow when you're comfortable"? Well, the same theory can apply to creativity: If you're physically sedentary for too long, your creativity might get stunted because, according to research published in the scientific journal Psychology and Aging, exercise is linked to reduced mental fog and improved thinking skills, which suggests that neglecting to move your body on a regular basis will probably, at some point, leave you feeling pretty fuzzy when it comes time to use your brain and think outside the box a bit.
The good news is, the workouts that are associated with improved creativity really aren't that complicated. In fact, they might already be part of your normal routine. Here's what'll get your noggin going when you're lacking inspiration.