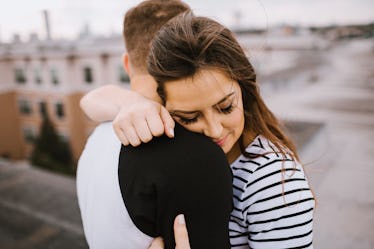 4 Ways To Build Trust With Your Partner If You're Apart This Summer
So you and your SO are spending the summer apart. While it's great to get some time to yourselves and to have the opportunity to miss one another, being apart for the season can also really test a relationship. That's because, let's be honest, there is plenty of temptation this time of year, when the weather is warm and everyone is out living their best summer lives. However, just because you are apart for a while doesn't mean your relationship is doomed — it just means you may need to add a few ways to build trust in your relationship so you're both feeling confident in the relationship while you're at a distance.
To help with this, I reached out to sex and intimacy coach Irene Fehr to ask for her expert advice on ways to improve the trust in a relationship so a couple can weather longer periods of time apart and still feel confident in their commitment. Fehr tells me in our interview for Elite Daily that the first step is to understand how trust works, because by understanding the different factors, you can address them all and strengthen your bond. "There are different elements that make up trust: transparency [and] being open about what's going on for you and consistently delivering on your word or promise to do [or] not do something," says Fehr. "Being apart creates a level of opaqueness in a relationship, making trust harder and also necessary." Makes sense, but how do you put that into practice? Here is Fehr's advice on how to tackle this tricky issue.