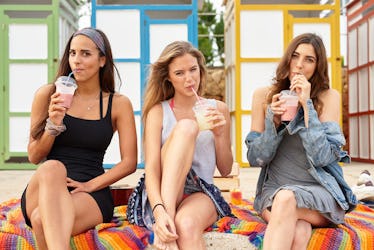 4 Things You Should Really Never Do Alone, No Matter How Grown-Up You Feel​
Growing up and feeling like an adult is an irreplaceable thing. You're out of school, working, and you finally feel like your life is coming together. But even though you're a total #GirlBoss and don't really need people to help you out, it's nice to have some of your closest friends and fam by your side to watch you reach your goals. There are just some things you shouldn't do alone, even when you're grown up.
I totally understand wanting alone time. I'm an introverted extrovert, and I often find myself wanting — or needing, really — to skip out on social activities so I can feel productive and get my work done. And even when I feel like I'm making progress, my brain tells me that I'm not moving fast enough or accomplishing all the things I want to. It's nice to have my loved ones offering words of encouragement, and to help me out when I feel like I need a little push.
Trust me, even if it doesn't feel like it right now, you'll be so grateful to experience some of your biggest life moments with your family and friends, and you can bet that they're more than happy to be there for you.