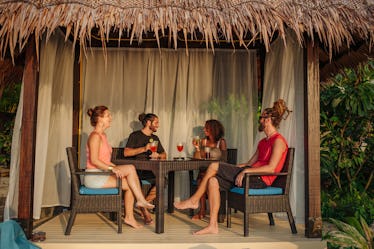 4 Things To Remember When Taking Your Partner On A Family Vacation For The First Time
There are several milestones you and your partner will face throughout your relationship. You'll have your first date, your first kiss, your first ~time~, first sleepover, and the first time you meet each other's parents, just to name a few. Each of the milestones you and your partner experience can be exhilarating, nerve-wracking, and butterfly-inducing all at once, but taking your partner on a family vacation for the first time is probably all of the above. You're probably excited to be taking that big of a step with your bae, but also nervous because family vacations can get extremely personal. So, while the butterflies flutter in your stomach with lots of eagerness, nerves, and excitement, there are a few things to remember about the first family vacation.
It's important to stress that you and your partner are 100 percent allowed to do everything in your own time. Whether you go on vacation with your family one month or one year after you make it official, there's no such thing as "too soon," when it comes to deciding what feels right. And that goes for every aspect of your relationship, too. There are no set timelines! When you and your partner have decided to take your first family vacation together, these four things can be important to remember.